You may have noticed some loose shingles while you were doing yard work. Or was there a small leak after the last rain storm? Whatever the case, there are some issues with your roof. The burning question is should repair or replace it.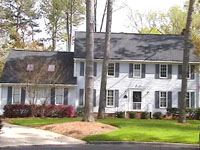 Obviously, roof repairs are less expensive than a roof replacement, but will there be long-term costs that will come into effect if you opt for one over the other? How do you know which is the better option?
Even though replacing your roof is more expensive, depending on your circumstances it is often the better choice. Really what you should consider is this:
How old is the roof? If the roof is fifteen years or older, replacement is around the corner anyway. Stop wasting money on repairs and just replace it. If your roof problems are because of severe weather, the damage is probably extensive. A repair on the obviously damaged part may solve your problems for a month or two, but replacement is the best choice because the roof has probably been weakened.
If the roof has been exposed to excessive moisture or the moisture has led to mold on the inside of your home, replacement is the best choice.
If the roof was poorly designed, improperly or poorly installed, or built with cheap materials, you will need a new roof.
Replacement is generally the best option for serious roofing problems, sometimes making repairs to your roof makes more sense. There are definitely scenarios where a roof repair is the better answer:
If you are moving in the next six to twelve months, a new roof is not worth the costs when a repair will do the job for the time being.If the damage is limited, a repair may be sufficient to solve the whole problem.
If your roof is new or regularly maintained the problem should be small and easily repaired. Regular roof maintenance ensures that small problems are spotted and fixed quickly.
If you are still not sure whether your roof needs to be replaced or repaired, call SB Roofing for more specific information about your situation. We will get you all your estimates and inspections in writing.