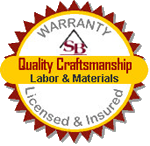 SB Roofing, Inc. is a full-service provider in Hampton Roads' residential roofing market. From inspections, maintenance and repairs to complete roof replacement, we can provide the service you need. And it always comes with the highest standards of care and workmanship backed by a full warranty that covers labor & materials.
Roof Replacement
Replacement is the process of removing the existing roof when in disrepair. Nailing over the existing roof is not recommended due to the added weight and increased chance of leaks. There are many factors that may cause a roof to fail, such as poor workmanship, faulty materials, inclement weather, age, and improper maintenance. For information about new roofing systems, check out our roofing solutions.
Roof Repairs
Repairing a roof is sometimes a more cost-effective way to address problems that have not compromised the entire roof. This may include recaulking, repairing penetrations, patching shingles, and making plywood deck repairs.
Maintenance of a Roof
Maintenance involves an inspection of the existing roof to determine if there are any areas of weakness that may compromise the roofing system. Through regularly scheduled annual inspections, our company technician can assist the owner in protecting their investment by locating and identifying potential problems in their early stages. Early stage detection can make it possible for us to repair or extend the life of a roofing system, which is significantly less expensive than replacing your roof.
Roof Inspections
When buying or selling a house, you can avoid any roofing surprises through a detailed inspection of the roofing system that includes a written report.
ABOUT SB ROOFING
Commercial and Residential Class A Contractor
Here at SB Roofing, we are dedicated to providing quality products, craftsmanship, and service. But, more importantly, we want to assure that you are completely satisfied with the job we do for you.
We are experienced providers of the industry's most secure residential roofing solutions, providing Hampton Roads homeowners with over 25 years experience. From immediate roofing estimates to quick service to final clean-up, we have built our reputation on protecting your most important investment - your home!
We pay special attention to detail by having continuous job supervision and highly qualified installers on every job. Also, SB Roofing maintains discreet relationships with roofing manufacturers and distributors, allowing us to provide you with the best prices, availability and selection at all times. And our work is backed by a full warranty that covers labor & materials.
NO OBLIGATION
Request a Free Estimate
---