Protect Your Investment and Safeguard Vulnerable Areas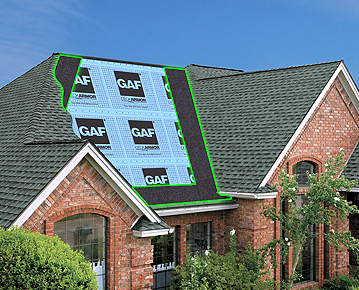 Superior Quality Roof Deck Protection Can Protect And Beautify At The Same Time! Quality Roof Deck Protection:
Protect Your Property...
Help prevent wind-driven rain from leaking through the roof deck, or melting ice and snow (caused by ice dams in harsh winter climates) from leaking into property's interior

Add Extra Protection...
In valleys and at eave and rake edges — the most leak-prone areas of the roof. Strongly recommended for chronic problem areas like skylights, dormers, vent pipes, chimneys, and other flashing areas

Won't Leak...
Helps ensure a 100% watertight seal

Avoid Costly Repairs...
Due to staining on interior walls and ceilings

Better Appearance...
Fiberglass reinforcement helps resist wrinkling and buckling — lays flatter under shingles

Saves Labor...
Split-back release film peels off in sections, for faster installation and superior property owner value

Peace Of Mind...
Benefits from the same warranty term as the shingles they are applied under, up to a maximum of 30 years*
*See ltd. warranty for complete coverage and restrictions
Leak Barrier: Learn how it helps prevent wind-driven rain from leaking through the roof deck
StormGuard®
Film surfaced leak barrier, suitable for application under shingle and metal roofs.
WeatherWatch®
Mineral surfaced leak barrier, suitable for application under shingle roofs.
YOU GET:
A Lifetime ltd. warranty...on your shingles and all qualifying GAF accessories! See Details >>

Non-prorated coverage for the first 10 years See Details >>

ABOUT SB ROOFING
Commercial and Residential Class A Contractor
Here at SB Roofing, we are dedicated to providing quality products, craftsmanship, and service. But, more importantly, we want to assure that you are completely satisfied with the job we do for you.
We are experienced providers of the industry's most secure residential roofing solutions, providing Hampton Roads homeowners with over 25 years experience. From immediate roofing estimates to quick service to final clean-up, we have built our reputation on protecting your most important investment - your home!
We pay special attention to detail by having continuous job supervision and highly qualified installers on every job. Also, SB Roofing maintains discreet relationships with roofing manufacturers and distributors, allowing us to provide you with the best prices, availability and selection at all times. And our work is backed by a full warranty that covers labor & materials.
NO OBLIGATION
Request a Free Estimate
---